Therapeutic/Aesthetic Botox / Dermal Fillers
Botox® & Dermal Fillers in Hollis, NH
At The ART of Dentistry, we take a customized and comprehensive approach to making you look and feel your best. Since your face is the frame for any cosmetic and restorative dentistry procedure, Botox® and Dermal Fillers can provide the final puzzle piece to a picture-perfect smile. Experienced in an extensive range of dental procedures, Dr. Lyford is highly skilled and trained to perform the non-invasive treatments, making it possible to achieve more youthful-looking skin or replace facial volume lost over the years. In addition to correction of the visible signs of aging, Botox & Dermal Fillers are utilized to support collagen growth, cell rejuvenation, and to take a proactive approach; preventing dynamic lines from becoming permanent. The treatments are also helpful to alleviate facial pain and number of other dental related issues.
Dr. Lyford is specifically trained to treat the facial muscles and bones in and around the mouth, and he seeks to optimize the results of patients' smile makeovers.
The ART of Dentistry Advantage:
Smile makeover expert
Extensive training and knowledge of facial muscles & expression dynamics
Highly experienced with injections
Consideration of facial and dental proportions for optimal results
Incredible attention to detail
Facial pain and TMJ expertise
Treatments offered quickly and convenient treatments during routine dental visits
Botox® Cosmetic
Botox® Cosmetic is a quick, effective, non-surgical treatment that temporarily smoothes moderate to severe lines and wrinkles for frown lines between the eyebrows, forehead, crow's feet, and around the mouth. Botox® can also be used to create brow lifts, raise the corners of the mouth, and to correct moderate to severe "gummy smiles" in people 18 to 75 years of age.
After Botox®
Botox® Therapeutic
Botox® is also used to remedy a number of dental issues, such as migraine headaches, facial pain, jaw tension, angular cheilitis or facial muscle spasms. TMJ disorder, teeth clenching, and teeth grinding (Bruxism), can cause pain and discomfort, disrupting daily life. Quick and painless Botox® injections deliver targeted treatment to relax the muscles that control the jaw, preventing wear on teeth and alleviating facial pain that disrupts daily life. TMJ Botox treatments also have an aesthetic effect of naturally slimming the face, narrowing the appearance of a square or wide jaw.
Before:
After:
Benefits of Botox Treatments:
Non-surgical, minimally-invasive procedure
Effectively minimizes lines and wrinkles for a more youthful appearance
Approved by the U.S. Food and Drug Administration
Quick and convenient treatment
Long-lasting results
No downtime
Pro-active treatments will prevent new lines and wrinkles from forming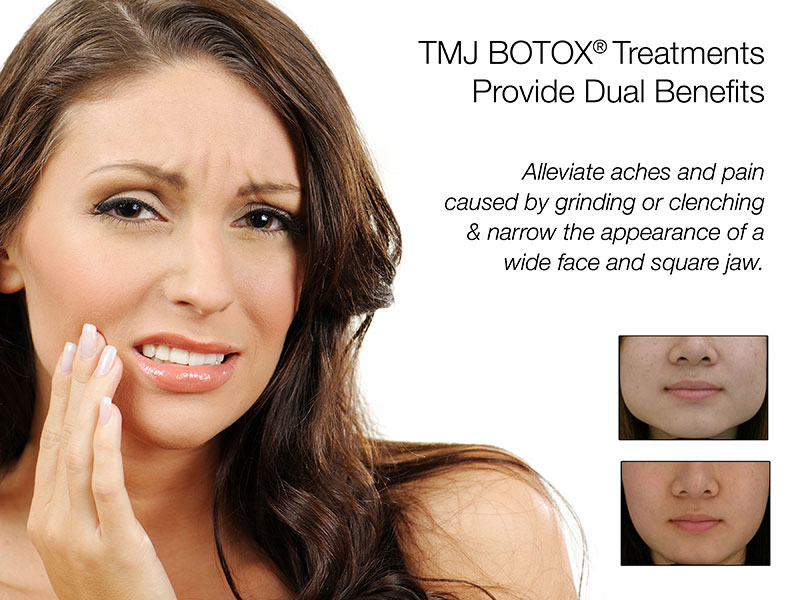 Dermal Fillers
As our skin ages, it gradually loses its major constituents: Collagen, Elastin and Hyaluronic Acid. Collagen acts as the major support protein for our skin, elastin allows our skin to stay firm and resist wrinkles, and hyaluronic acid helps to trap water and add volume and shape to our skin – keeping collagen and elastin moist. Since Hyaluronic Acid is a primary component of healthy skin, naturally diminishing levels associated with age result in dryness, reduced flexibility, and wrinkles.
Injectable hyaluronic acid is used to assist the body's replacement and repair functions for the formation of new cells, helping reverse the noticeable signs of aging. Dr. Lyford provides Juvéderm™ or Belotero treatments to lessen the appearance of lines, wrinkles, scars, sagging and depressions in the skin caused by age, acne, or injury. Dermal Fillers can be used to volumize lips, nasolabial folds (smile lines), marionette lines, corners of mouth, scar depressions, vertical lines above the lips, dimpled chin, jaw line, cheeks, jaw contouring, filling interdental papilla (the small gap between adjacent teeth), and to correct smile and facial asymmetries.
Dermal fillers can provide a more natural, youthful appearance than surgical face-lifts, with results lasting 6 months to 1 year.
Before:
After:
Who Should Consider Facial Injectables?
Men or women showing early signs of aging or volume loss
Patients who want to avoid invasive and expensive plastic surgery, while achieving similar results
Patient who wish to take a pro-active approach to preventing the signs of aging
People who suffer from teeth grinding (Bruxism), clenching, jaw tension or TMJ disorder
Patients who wish to lower a moderate to severe gummy smile
Patients who may suffer from migraine headaches or facial pain
Frequently Asked Questions
How long do treatments take?
Procedures are brief and only take approximately 10-25 minutes depending on treatment(s). They can be done during routine dental appointments, with no downtime.
Are treatments painless?
Dental practitioners are experts in injections and anesthetic options resulting in minimal discomfort for pain-free treatments. There is usually no need for anesthesia; however, a topical cream may be applied if requested. If there is a need for anesthesia, a dentist is the most experienced at numbing the lips.
How long will it take to see results?
Since Dermal Fillers volumize, results are immediate. For Botox, you may begin to see results as soon as 48 hours. Total efficacy will take place in 2 weeks.
How long will results last?
Depending on the area being treated, Dermal Filler results typically last from 6 months to 1 year. Botox® Cosmetic typically last between 3-4 months. After each re-treatment, lines and wrinkles will return less severe as the muscles are now trained to relax.
Are treatments safe?
Botox® is one of the safest cosmetic procedures available and its use has a history of more than 20 years. Juvederm is made out of Hyaluronic acid, a natural component of your body that encourages new cell growth.
International Academy of Facial Aesthetics
Dr. Lyford continues to stay up-to-speed with the latest advances, techniques, and products within the facial aesthetics industry. As a member of the International Academy of Facial Aesthetics, Dr. Lyford is committed to providing excellence in patient care.