Hypochlorous Acid Fogging at Home or Work
Inexpensive, Safe – Where to Purchase/How to Use
I have been asked by many Patients and other Doctors about hypochlorous acid fogging. Therefore, I've put together this document to alleviate hours of research to gather all the necessary components to purchase and the 'how to' fog quickly and easily.
Sources for Hypochlorous Acid:
We use the Ecolux Generator, it is easy to use and produces 1 liter of 200 ppm hypochlorous acid at the appropriate pH. If one amortizes the cost of the generator over 5 years and the cost of white vinegar and non-iodized (Kosher) salt the cost is 4 cents per liter. One liter fogs a long way. It has a shelf life of several weeks if stored airtight, at room temperature, away from UV light (out of the sun). It is so inexpensive to make, we make it fresh every week. It also comes with two sets of test strips, one for pH and one for actual hypochlorous acid concentration.
I have also included a list of commercially available sources of hypochlorous acid including PurTabs and BruTab, which are preformulated tablets with a longer shelf life that are dissolved in the appropriate volume of water. As with the Ecolux Generator, tap water is fine, you do not need distilled water.
True Foggers:
The most important aspect of a true fogger is the particle size it emits. Ideally particle size ranges from 15-30 ums. Some inexpensive ones are not foggers but misters. When fogged the rooms floor should not be wet, if they are then the particle size is too large. The ideal concentration for fogging is 200 ppm hypochlorous acid.
Please do not hesitate to email or call us with questions…below are several sources for you to start with. Stay safe, have patience, we are in this together.
Sincerely,
Dr. Lyford
Ecolux Generator: $260 https://ecoloxtech.com/ecoone/
Ecolux Fogger: Good quality and customer service: $500
There are less expensive foggers, most are electric, a couple are totally portable: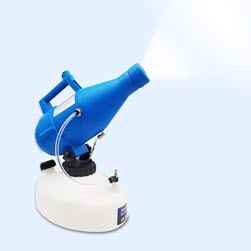 15um particule size $88 Electric
https://www.amazon.com/Portable-Electric-Machine-Disinfection-Fogging/
*************************************************************************************
Portable rechargeable 15-30 um $88 :
https://www.amazon.com/ANTIEE-Wireless-Rechargeable-Electric-Portable/
*************************************************************************************
Electric 20-50 um $120:
https://www.amazon.com/MARATTI-Electric-Portable-150-260ml-min-Large/
*************************************************************************************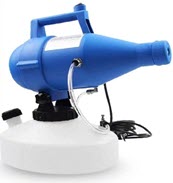 Electric 0-30um $130:
https://www.amazon.com/Electric-Machine-Portable-Disinfectant-Atomizer/
*************************************************************************************
This one has a higher output and volume and would be good for larger spaces, school rooms, buses, locker rooms, restaurants. This holds 8 liters:
https://www.amazon.com/Electric-Atomizer-Ultra-Low-Capacity-Disinfection/
*************************************************************************************
A recent great reference:
2020 article : https://www.ncbi.nlm.nih.gov/pmc/articles/PMC7315945/
*************************************************************************************
The COVID-19 Pandemic: The Latest Information